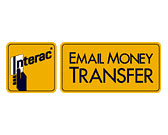 Interac e-Transfer
As secure as cash, only now it's Easier.
Interac Email Money Transfers (now called Interac e-Transfer) is a simple, convenient, and secure way to send and receive money directly from one bank account to another. All you need is access to online banking through a participating financial institution, and you can send money to anyone with an email address and a bank account in Canada — without sharing any personal or financial information. It''s a great alternative to cheques and cash. Click Here for the Official Interac Website,
How to pay by
Interac
e-Transfers
**(Note: Please request Security 'Q&A' from Allsold.ca before sending
IMT
.)
Log on to your participating financial institution Website
Look for a Tab called Transfers
Chose

Interac

e-Transfers (Note: Email Money Transfer methods other than

Interac

are not accepted by Allsold.ca)
Select Send or Transfer Money
Enter the ''To (email) as provided
Enter the Exact amount
Type the agreed upon Security Question **
Type the Agreed upon Answer, 1 Word, (alphanumeric; no spaces) **


Under Message, please Enter ''Re: the payment for order ####''

Click on the Submit Button or Send Button

Please follow up with us to ensure that your Interac e-Transfers was received before the close on the next business day.
** Information to be provided to you by Allsold.ca by email or phone.